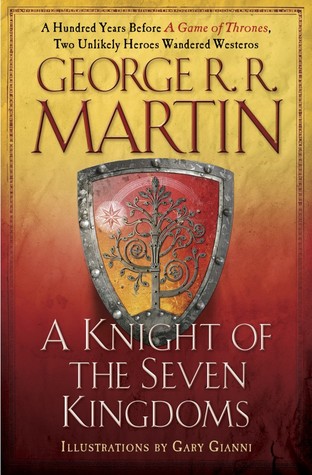 After reading any George Martin book, my instinct is always to rate it as high as possible, give it 5 stars, praise it to the moon and back. And why not? Westeros is one of the most fulfilling, creative, and rich worlds ever created in fantasy – the history, the families, the geography, the politics – it's all incredible. And Martin's prose is always fluid, keeping the reader interested, leaving just enough to the imagination to fill in the blanks, while also being thorough and robust.
These shorts, of course, are no exception – they are some more of the Westeros history and backstory that is hinted at, but this time put into full prose, and given a set of lively characters as well. It gives an especially nice look at the Targaryens during their time of rule, including a look at some of the wars leading up to their current ownership of the throne, and the rippling aftereffects.
Many of you know my undying love for novellas and short stories. I really do enjoy backstory books, side-adventures, and any piece of in-world filler pertaining to stories and series that I love.
And yet, A Knight Of The Seven Kingdoms still left me feeling a bit unfulfilled.
For those uninitiated, A Knight Of The Seven Kingdoms is not "new" work from Martin, per say – rather, it's a collection of three short stories he'd written previously; "The Hedge Knight" from the Legends anthology, "The Sworn Sword" from the Legends II anthology, and "The Mystery Knight" from the Warriors anthology. They follow Ser Duncan the Tall (or "Dunk") and his squire, Egg, whose identity is revealed in the first story, but for which I will not spoil here.
Dunk is a hedge knight – essentially, a sellsword knight, free to pledge his allegiance to whoever lord he desires/pays the most/is convenient etc. After the knight he was squire for passed away, knighting him just before his death, Dunk set out on his own, with dreams of grandeur and glory. He stumbles across Egg, a small boy with a shaved head, at an inn he is seeking to stay at. Unbeknownst to him, the boy follows him, appearing at his next destination. One thing leads to another (understatement of the century) and Egg ends up as Ser Duncan's squire.
The stories themselves varied quite a bit as far as length, content, and overall quality. The first is an intro story, where the characters are introduced, they meet, and they begin being locked up in a small bit of political intrigue and general knightery. The second and third are individual stories of the exploits of Dunk and Egg, including large knighting tournaments, and a handful of life lessons that Dunk The Lunk is forcibly dealt.
The stories are undeniably Westerosi – the relevant families from ASOIAF are present, the locations, the cultures. Bits of history are dropped, and a lot of current events are filled in throughout the three stories. They do, however, have a slightly different feel to them than the full novels. There's still plenty of gory violence, sexual themes, "OH GOD" moments. But the relationship between Dunk and Egg is at times humorous and lighthearted, kind of a Royce and Hadrian or Egil and Nix kind of thing, with intelligent and witty banter back and forth, and lots of threatening of clouts on the ear.
The hardcover of this book is actually gorgeous. They did a really nice job making this into a nice package, and keeping it from feeling a bit anemic, which is always a risk when you're putting together three short stories into a novel-sized package (at novel prices). The book feels robust, with a very nice textured dust jacket, and nice construction on the book itself. The inner covers are gorgeous full color illustrations, and Gary Gianni's illustrations on every 3rd or 4th page are very nice, relevant to the stories, and really give a lot of feel and atmosphere to the stories.
Overall, the presentation is nice, and the stories are decent. However, I'd heard a lot of good things about these stories, and they didn't fully live up to their hype for me. They were good but not necessarily great, though each had moments of greatness. I feel as though I'm rating it down because it wasn't quite up to Martin's full potential, which is largely unfair. In the end, I wish each of these had a bit more to them, and that there was more overall cohesion to this small storyline. As it is, it was a nice distraction from the wait for Winds of Winter, and I'm glad I put off reading these stories until they were gathered in one package.
Rating: 4.25 / 5